September 27, 2022
COF Scholar Quentin Walker at AU22 CIR Chat Session #2
Image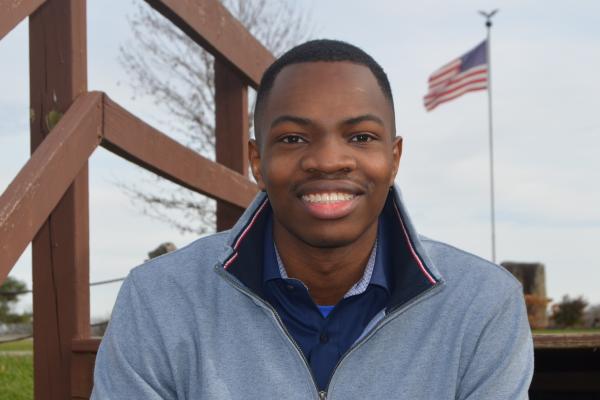 Description
Quentin is a junior Choose Ohio First (COF) Engineering and Science Innovators (ESI-Engineering) scholar majoring Biomedical Engineering and Premedical at The Ohio State University with interests in orthopedics and cardiology, specifically in medical devices. As he became older, he had a growing interest in engineering. This led him to choose Biomedical Engineering because it is a merging of the two disciplines. 
This past summer he worked on a research team with King's College London at St. Thomas Hospital in the United Kingdom. His research focused on cardiac fibrillation treatment and designing portions of a robot. His aim during the research was to construct a fixture to secure the catheter to a novel robot during the procedure. He used his medical device design experience from previous projects at The Ohio State University and previous research project with Discovery Lab Global to successfully design the fixture. 
Quentin will present his internship experience at CIR Chat Session 2 at The Ohio State University on Friday, September 30, 2022 at 1:00PM. He is going to speak about his internship and research experience entitled Tea, Crumpets, and Biomedical Research. Quentin originally didn't plan to do research this summer because he was involved with the Second Year Transformational Experience Program (STEP) at The Ohio State University. However, through talking with the Office of International Affairs he found a joint program between The Ohio State University and Arcadia University in Glenside, Pennsylvania, which led him to the research project with King's College London. After graduation, Quentin would like to pursue a degree in which he can combine both medicine and engineering. 
Advanced
Text
Benefits of being part of COF. 

Q: I am grateful to be involved with the Choose Ohio First Scholarship program. I would like to express that my favorite part of being in the COF scholarship program is the encouragement to get involved at acquiring professional experience.
---