October 4, 2022
COF Scholar Joshua Galloway at AU22 CIR Chat Session #3
Image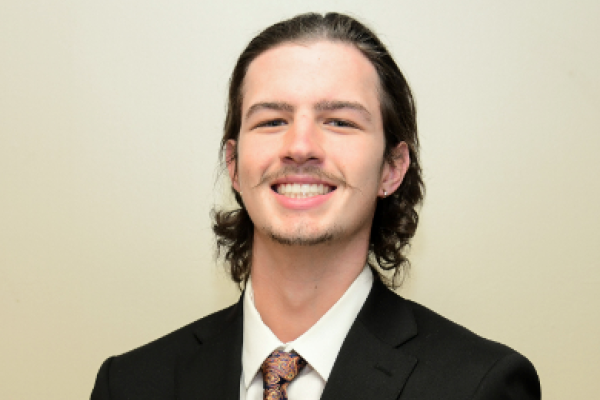 Description
Joshua Galloway is a junior Choose Ohio First (COF) Engineering and Science Innovators (ESI- Science) scholar majoring in Biochemistry and Pre-med at The Ohio State University with interests in genetics and genetic editing to treat cancer and genetic disorders. He became interested in this path after learning about the potential applications of a gene editing technique known as CRISPR that could be used to treat illnesses through gene therapy or before fertilization.
This past summer he worked with the research team at the Texas Tech University Health Sciences Center (TTUHSC). His research focused on the growing and production of biofilm for Lactobacillus bacteria. This was done to collect the antimicrobial supernatant that is produced by the biofilm. His role in this experience was the preparation of the bacteria and the set-up of the necessary growth apparatuses used in the experiment. Alongside this research, he was tasked with setting up the experimental design for a retrospective cohort study on the contraceptive, Nexplanon, and its uses in a clinical environment. Lastly, he worked on several other projects where he helped to finalize the data and helped to submit them for publication.
Josh will present his research experience at CIR chat session 3 at The Ohio State University on Friday, October 7, 2022 at 1:00PM. He is going to speak about his experience and research experience that he had at The Texas Tech University Health Science Center. Josh was able to find this experience by reaching out to hospitals in Texas where he would be living over the summer and he found success at Texas Tech. After graduation, Josh plans on attending medical school where he will pursue his interests in either genetic counseling or oncology.
Advanced
Text
Benefits of being part of COF. 

J: support that he receives from the faculty and staff.
---