September 13, 2022
COF Scholar Jocelyn Hsu Representing OSU at 2022 ODHE Annual Showcase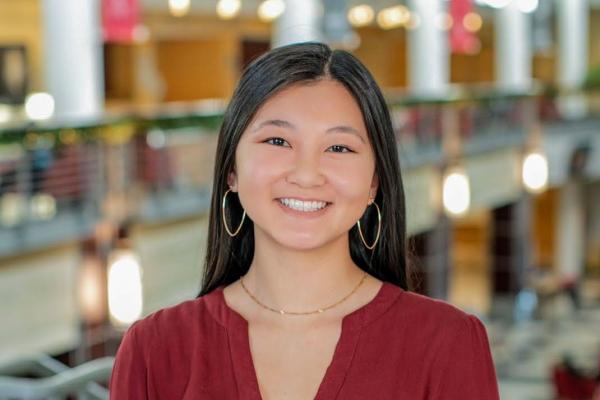 Jocelyn is a senior Choose Ohio First (COF) Engineering and Science Innovators (ESI-Science) scholar majoring Biochemistry at The Ohio State University (OSU) with interests in youth empowerment and cancer biology. After graduating in Spring 2022, Jocelyn plans on pursuing her Ph.D. in Cancer Biology to become a professor and researcher studying the genetic mechanisms of cancer metastasis and drug resistance. Jocelyn currently conducts research at the OSU with Dr. James Chen and Dr. John Hays. Her research identifies biomarkers of drug resistance in patients with sarcoma. Moreover, her work has been published in the Journal of Clinical Oncology and has been presented at several symposia including the Connective Tissue Oncology Society Annual Conference. Jocelyn's work has culminated in an Honors Thesis that she will defend in Spring 2022.

Additionally, Jocelyn has previous research experience with the National Cancer Institute where she worked with Dr. Denis Wirtz from Johns Hopkins University to study venous invasion in pancreatic cancer using a novel 3D imaging method. Jocelyn's passion for teaching has accumulated through her experience working with children in Camp Kesem, conducting science experiments with elementary students, and working with college students as a General Chemistry Lab Teaching Associate. Beyond teaching, Jocelyn also strives to advocate for students by serving on multiple student boards at her university.

Jocelyn will represent the OSU at the Annual Choose Ohio First Showcase on Wednesday, February 16, 2022 at 2:00 PM. She is presenting a research poster entitled Imaging of Pancreatic Tumors in 3D to Study Venous Invasion. In addition, she has mentioned that COF has been an all-encompassing support organization throughout her college career. During her time as a freshman, Jocelyn made friends and mentors who helped her to conduct research at a very early stage of her academic career. By the second year, she joined Wonders of Our World (WOW), which made her realize the impact that college students can have on younger students. Her interest in youth empowerment stemmed from her time working with younger students and has been one of her most impactful activities Joselyn participated in during her undergraduate career. As a senior, she continues to feel supported as she prepares for graduate school.
Service activities you have participated in the past. 

J: I am part of Wonders of Our World (WOW), a science outreach program at [The] Ohio State [University] that conducts science experiments with students from Columbus City Schools. WOW hopes to supplement the existing science programs in elementary schools, bring the excitement of scientific discoveries into the classroom, and increase young students' interest in science. During the COVID-19 pandemic, we built science kits that could be delivered to students' homes or schools and recorded videos to assist their learning. I worked on the science communication team to create social media graphics. These graphics aimed to increase awareness of the program, draw attention to the kits we offered, and educate the public on interesting and novel scientific discoveries, especially from underrepresented populations. By teaching hands-on science experiments to elementary students for the past 3 years, I developed different methods to engage various audiences and discovered my passion for sharing knowledge. Fostering a community of scientists and seeing my students' growth in confidence, curiosity, and science application inspires me to teach. I also participate in educational programming for the Society of Asian Scientists and Engineering (SASE) at [The] Ohio State [University]. SASE aims to help Asian heritage scientific and engineering professionals achieve their full potential. Prior to the pandemic, we hosted science outreach events with local schools to conduct science experiments, but we now host professional development and social events that uplift and promote the success of Asian scientists and engineers at [The] Ohio State [University].
How did you get involved in studying Biochemistry and doing research? 

J: When I came to [The] Ohio State [University], I thought I would pursue a career in forensic science (I wanted to work for the FBI [Federal Bureau of Investigation]) and decided that Biochemistry would be the best major for my interests. I also had no interest in joining research my freshman year, but my mom, who works as a nurse at the James Cancer Hospital, told me about an opening in one of the physician's labs, so I decided to join their lab. Within the first 3 months, I developed a new interest in cancer research and have been doing research with that lab for the past 3 years, and hope to continue along this path in graduate school.
---